Event Details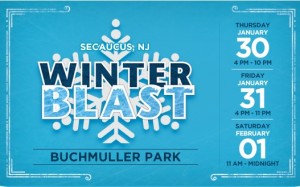 Secaucus' Winter Blast
Thursday, January 30 2014 04:00 pm

Secaucus' Winter Blast
Secaucus NJ
P:
F:

Secaucus' Winter Blast produced by Exposure is a 3 day celebration at Buchmuller Park in Secaucus, NJ.
When: Thurs, January 30th 4pm-10pm; Fri January 31st 4pm-11pm; & Sat February 1st 11am to midnight
It will feature a gathering of the best foods in the area, a beer garden, music from Darius Harris from Motown, The Naked Cowgirl, Craft Band, NASH Radio, and 92.3 NOW and other local bands sponsored by Hartz Mountain. The ice rink will showcase a Winter Blast Squirt tournament with local hockey teams, Sled Hockey games featuring NJ Freeze Sled vs. Philadelphia Flyers Sled teams, and Challenger hockey players from Brick, NJ. During non-game times, there will be open skating. Additionally, New Jersey Devils alumni players Bruce Driver, Grant Marshall, and Ken Daneyko, will appear at a meet and greet session on Fri, Jan 31st beginning at 5:30pm and Travis Zajac will appear on Sat, Feb 1st from 1-3pm.
Other attractions include the Sports Authority 40 Yard Dash and Tug of War, Ice Sculpting, Live Graffiti art by Get Lost A Lot, the NJ Hall of Fame Mobile Museum, Lombardi Trophy, Inflatable Obstacle courses, a Life Size Snow Globe for photo-ops, vendor village, Guinness Book of World Records for the largest ball of Mozzarella set by Spectrum Works and Toscana Cheese Co., Field Station Dinosaur, and much more.
There will be prizes and giveaways throughout the three days. The online tickets are $10 per adult per day, a $30 family 4-pack per day, $18 for an adult 3-day pass (Children 10 & under FREE). Day of admission is $15/person per day and a $40 family 4-pack. Admission fees cover the cost of most everything in the park except photos with the Lombardi Trophy and any purchases from the Vendor Village, food vendors, and beer garden. A portion of the proceeds will benefit the Secaucus Emergency Relief Fund and local 501C3s. For discounted admission tickets visit: NorthJerseyEvents.com
Winter Blast is sponsored by the Town of Secaucus, North Jersey Media Group, Goya Foods, Houlihan's, Coca-Cola, Hartz Mountain, XChange, Heineken, Anheuser-Busch, and NY Waterways.