Event Details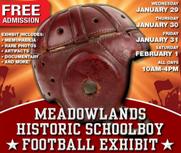 Meadowlands Historical Schoolboy Football Exhibit
Wednesday, January 29 2014 12:00 am

Meadowlands Historical Schoolboy Football Exhibit
91 Crane Avenue Rutherford NJ
P: 201-935-1175
F:

The Meadowlands Museum – January 29 through February 1
A committee of football coaches, alumni, and sports enthusiasts formed the Meadowlands Historic Schoolboy Football Exhibit Committee. All volunteers, the committee has been working for several months collecting memorabilia, rare photos, and other artifacts that will represent schoolboy football lore of Rutherford High School, St. Mary High School of Rutherford, Lyndhurst High School, Passaic High School, and St. Cecilia High School of Englewood.
The exhibit will showcase high school football from the 1920s through the 1960s, featuring great National Football League players and outstanding high school legends including the Vince Lombardi years at St. Cecilia; College Hall of Famer, Augie Lio (Passaic); and Super Bowl participants Bob DeMarco (St. Mary-Super Bowl VI), Jack Tatum (Passaic-Super Bowl XI), and Stan Walters (St. Mary-Super Bowl XV). The exhibit will also include former New York Giant players Jim Blumenstock (Rutherford), Jim Garrett (Rutherford), Tommy Longo (Lyndhurst) and Ron Mikolajczyk (Passaic), as well as NFL players Roland Moss of the Baltimore Colts (Passaic) and Craig Heyward of the New Orleans Saints (Passaic). Long-time coach Mickey Corcoran, who played for Lombardi at St. Cecilia, and John Kelly (St. Mary/Rutherford) and Phil Sheridan, Jr. (St. Mary), who went on to become Captains of Notre Dame football teams will also be featured in the exhibit.
The display at The Meadowlands Museum, 91 Crane Avenue, Rutherford, will include an amazing Exhibit Room plus a Media Room where visitors can watch on a wide-screen TV, videotaped interviews with great NFL and Hall of Fame players who came from Meadowlands area schools.
The exhibit begins on Wednesday, January 29th and runs through Saturday, February 1st from 10am to 4pm. It will be also be available on Wednesdays and Saturdays through the month of February. Admission is free.
SHUTTLE SERVICE AVAILABLE to the Meadowlands Museum from the Kip Center Parking Garage, located at the corner of Kip and Ames Avenues.  The Rutherford Shuttle Bus will run approximately every 30 minutes between the hours of 10am and 4pm from January 29th through February 1st.  Parking will be reserved on the upper level of the parking garage for MMus patrons.
UPDATE: MMus Board President Rod Leith and Tom Potor, president of the Rutherford High School Athletic Hall of Fame, gave this fantastic interview with NorthJerseySports.com about our upcoming Meadowlands Historic Schoolboy Football Exhibit. Can't wait for the opening on January 29th? Come see the exclusive preview at this Friday's Chocolate Tasting!