Event Details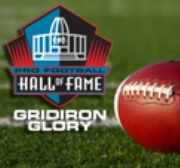 Gridiron Glory: The Best of the Pro Football Hall of Fame
Wednesday, January 01 2014 12:00 am

Gridiron Glory: The Best of the Pro Football Hall of Fame
222 Jersey City Boulevard Jersey City NJ
P: 201-253-1384
F:

At the Liberty Science Center in Liberty State Park, Jersey City now through March 2nd (lsc.org). The special exhibit includes historical artifacts and chances to meet NFL alumni!
The Center also offers 12 galleries full of hands-on science and technology exhibits the nation's largest IMAX Dome Theater, a mini zoo, aquariums, even a pitch-black, crawl-through maze.
January 1st – March 2nd.